+ – what can I say – +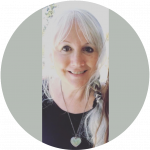 On a narrowly gauged track of ten children, I was engine number five, born in the 1950's on Chicago's south side to a city parks engineer dad and a former flight attendant and U.S. Navy Wave of WWII mom.

Words have always been easier to write than to say. Growing up, I often felt at a loss for words and derailed in trains of  thought. Avenues for expression and direction were discovered in the playing of musical instruments throughout my school years. From first grade through college, Dominicans and Sisters of the Sacred Heart orchestrated my education and opened the doors for contemplative thought, albeit this was spoken of early on in terms of clearing conscience and confessing sins. Music, for me, was redeeming and unifying. Somewhere along the child-to-grown-up-child continuum, I fell in love with the musicality of writing and the art of correspondence and conversation.
With inspiration stirred by stories of my maternal grandparents, who had both pursued careers in early media arts, writing, public speaking, and teaching, I learned I could explore this field of communications for portraying ideas, transcribing impressions, reformatting rhythms, digging for roots of context and meaning, or transforming word clay into word play with common codes of language.
Beyond limericks, rhyming, and school compositions, early writing processes introduced me to new ways of looking at landscapes and other points of view that writing seemed to take me to. Throughout my life, the processes became learned and better understood, but the path itself still fills me with mystery. It will climb like ivy over marginal walls or drop an impression into the still, pondering water of a well. A walk with words has taken surprising turns sometimes, turning sharply toward a rushing river or into a forest clearing of flickering fireflies.
I'm never really sure of where the path will lead. It may end in despair (with me pulling my hair), or best yet, surprise me with a constellation that points to a newer, more stellar side of a story. Without a doubt, the writing path toggles between a prayer and a path of untold adventure, but its processes are what I've come to know and trust.
My portfolio includes samples of newsletters, promotional marketing, web page content, teaching materials, and a collection of small-town newspaper cover stories with a few guest columns thrown in. My services include business writing and communications that are informational, invitational and educational in nature.
Looking for words that can paint a picture for sharing or marketing a story for an event, product, or service? I freelance with single assignments and special projects. Let's talk!
I believe that the LIGHT of this world is ON 24/7.